Christies Direct Top 5 Clippers
Heiniger Opal
Top of the range
When it comes to clippers, these are the top dog! The Heiniger Opal. The Opal has a cutting-edge ergonomic design, fits perfectly in the hand and is particularly small and lightweight for ease of use. Professionals can thus work effortlessly – whether for grooming, veterinary applications or dog, horse and cow styling.
The Opal is extremely quiet whilst also being impressively powerful and equipped with two-speed levels. With 3100 double strokes per minute in fast mode and 2600 in slow mode, this clipper works smoothly and quickly even through dirty and thick fur and hair. The latest lithium-ion battery technology ensures cordless clipping for over 240 minutes. It takes just one hour for a full battery recharge. Thanks to the built-in battery level indicator, it is always possible to check the remaining battery time.
Wahl KM cordless
Cuts through anything
With no cords to contend with, this is a super cordless option. Combining the signature brushless motor from the KM10 clipper, the KM Cordless is the first detachable blade cordless clipper from Wahl. The KM Cordless features a Lithium-Ion battery with up to 2 hours of runtime. Alternatively, the 10-ft heavy-duty cord can be attached to allow for all-day clipping.
Wahl Constant Speed Control makes the KM Cordless ideal for heavy-duty clipping, automatically delivering more power and torque in thick/tough areas. The brushless motor provides 2-speed settings (3,000 & 3,700 SPM) and there is minimal vibration and an ultra-quiet noise level of just 68dB. Perfect for the more sensitive client.
The quick charge feature gives 15 extra minutes of clipping for every 10 minutes it charges, a must for a busy salon. Blade wise, the Wahl KM takes all A5 type snap-on blades (Wahl, Andis, Heiniger and Oster)
Andis Pulse ZR II
5 speeds, versatile, top end
The ultimate in dog grooming technology, this Andis clipper will cut any coat type, in any condition, at any time.
Powerful enough to clip anything from a cat to a horse, this cordless clipper has 3 hours of charge per battery and comes with 2 batteries to keep you powered all day. With 5 speed options, this clipper can cut through tough matts or fine, fly-away coats with ease, and the simple LED display makes it easy to tell which setting you are currently using.
The Pulse ZRii comes in a galaxy inspired design but is also available in solid black or a floral design. The choice is yours.
Like all Andis clippers, the Pulse ZRii takes A5 snap on blades making these easy to change and replace when you need to.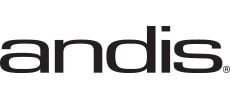 Andis AGC Ultraedge
Cost effective, perfect start up option
This sturdy clipper is a must-have for students and beginners looking to kit themselves out with a versatile clipper that can handle just about any job you throw at it! The corded, brushless motor delivers maximum power all day for even the toughest grooming tasks while keeping you comfortable thanks to its lightweight design (just 320 grams!).
Like all Andis clippers the AGC 2-Speed takes A5 snap on blades making these easy to change and replace, if need be. The two speed settings give you control over the power running through the clipper and can make it easier to clip nervous animals without causing them any additional much stress.
Dezynadog Motus
Ultimate battery life, Really high quality
Introducing Motus by DezynaDog, a two-speed cordless dog clipper designed with performance, convenience and reliability in mind. Topping the charts on run-time, warranty and design, this clipper will keep up with the busiest grooming schedules – remaining comfortable to hold and super stylish the entire time.
Part of the excellent DezynaDog range, the Motus cordless dog clipper offers the same historical balance of heritage and quality, with a modernised blend of style and expertly-crafted function. Designed in Northern Ireland, we're proud to say the Motus is the newest addition to this established, respected and much-loved brand.
Not just a pretty case – the Motus, with its two-speed levels and spare battery, makes light work of everyday appointments. Operating at 3000 SPM, or 3800 SPM on the high-speed setting, the Motus finds the perfect balance between torque and tempo to make cutting through thick coats as easy as possible.
With a run-time of 4 hours per battery, a fast charge time of 2.5 hours and a slow charge time of 5 hours, the Motus will keep you clipping all day – especially thanks to the in-built constant speed technology that prevents the clipper from slowing down when the battery is low. To fast charge, simply plug the depleted battery into the right side of the charging stand when using the second battery.
Compatible with all A5 blades, offering high speeds and epic battery life, the Motus is everything that a practical, high-quality professional clipper should be. But the Motus is designed to be more than just another clipper; finished with a beautiful black and orange hexagonal design and packaged in an equally stylish box, this clipper feels and looks fantastic from the moment it meets your eye, encapsulating everything that makes DezynaDog the brand it is today.